Employee satisfaction is the level of satisfaction or contentment an employee feels for his/her job. It is obvious that employee satisfaction is an important aspect of any business or organization.
When employees are happy and satisfied with the management and work culture, they put their best effort to make the company successful.
If the employees in an organization are not happy and content, it directly impacts the bottom line.
When employees' needs are met they develop a positive outlook towards the organization and its goals. When employees are dissatisfied and unhappy with their jobs, they lose their motivation and tend to underperform.
Key reasons for employee dissatisfaction
Low compensation
Lack of Career growth
Poor Management
Poor Relation with Co-workers and Managers
Lack of Appreciation and Recognition
Poor Work-Life Balance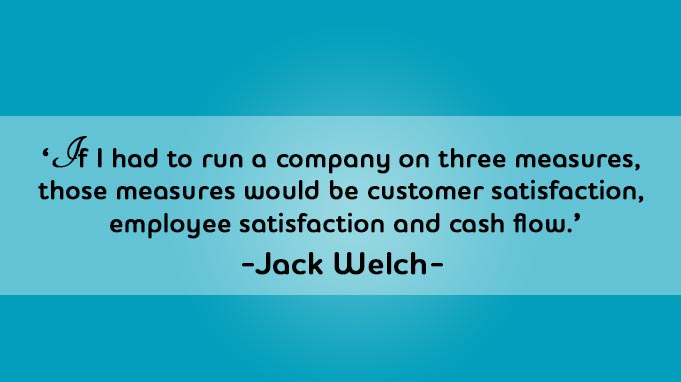 Here are the 7 Best Practices to Keep Employee Satisfaction High
1. A Positive Work Environment:
A positive work environment has a great influence on how the employees feel. Work environment plays a vital role in keeping the employees motivated. It significantly influences his/her work life. It reflects in the work they do and helps sustain positivity throughout the day.
A positive work environment doesn't only mean the organizational structure. It is the overall experience an employee shares with his/her co-workers, immediate supervisors, and company culture.
Create a positive work environment through-
Open communication
Building trust
Building healthy work relationships
Listening and promoting equal opportunities
Dig deeper- 7 Actionable Ways to Improve Workplace Environment

2. Feedback:
We all need people who will give us feedback. That's how we improve. – Bill Gates
We all need and crave feedback, and your employees are no different.
The right feedback from the managers is very important to employee satisfaction. Lack of feedback makes the employees unsure about the work and effort they are putting. Most of the managers are uncertain when it comes to giving feedback. Human psychology is complex and people can receive the same message or dialogue differently.
Managers should, therefore, master the tricks of giving feedback. The positive effects of feedback are immense in the workplace. It can build trust, employee satisfaction, keep the employees motivated and reduce turnover.
The best ways to give healthy feedback are
The positive intent.
It should be constructive.
It should be genuine.
Don't wait, give your feedback immediately.
3. Reward and Recognition:
According to the study by OfficeTeam, 66% of employees say they would "likely leave their job if they didn't feel appreciated.
Each one of us has unique skill sets and we consciously or subconsciously apply those at our jobs. It is, therefore, rewarding for anybody to be appreciated for the application of these skills. When employees are rewarded and recognized for the work they do, it builds employee morale, productivity, and overall employee satisfaction or job satisfaction.
Organizations often miss out on this psychological aspect. Appreciating and recognizing employees from time to time keeps employees motivated. This energizes them to thrive to do better and outdo themselves. Also, you can also offer valuable benefits and perks to your employees to boost their morale and job satisfaction.
4. Work-life Balance and Employee Satisfaction:
Work life balance is the process which helps employees to balance their professional and personal lives. Balancing work-life in today's world is quite tough and many a time can become burdensome.
Employees' energy flow to their different division of life (family, friends, and life). And each of them plays a crucial role in their satisfaction and happiness. Long, tight work schedule and too much of workload often make it difficult for them to keep a balance between them.
Management can, therefore, help its employees to bring a balance in work life. Some actionable steps management can take are
Initiating work-life balance programs
To have one to one interactions
To provide flexible work hours
Giving them enough time for relaxation and leisure
5. Involve and Engage your Employees:
When you involve and engage your employees, it builds employee satisfaction. Teams which work together with involvement are happier and satisfied. The best way to encourage employees is to make them fully involved. To hear them out in need. To make them realize that they are equally important and their contribution and hard work are always appreciated.
Work life can be hectic and burden at times. When you involve and engage your employees deliberately, it reduces employee turnover and enhances employee satisfaction.
6. Develop Employee Skills:
Helping employees develop their skill sets is also one of the attributes of employee satisfaction. When you give your employees a room for developing their skills, it boosts their job satisfaction and also increases efficiency at work. This also signifies that along with your organizational growth you also care about their career development.
Evaluating if the employees want to learn something new or need any specific training is always a good practice. Lack of this management approach often makes the employees dissatisfied. Since they feel they have nothing left to learn.
7. Evaluate and Measure Job Satisfaction:
Many small/big organization conduct biannual or yearly employee satisfaction surveys. They put up questions on the categories like teamwork, feedback, information, work-life balance, work relationship, self-evaluation and so on. This is a very good practice unless it becomes monotonous or complacent. Since work culture is diverse from one organization to another, therefore the surveys can be designed accordingly.
Let's say management can put an employee suggestion box to hear employees out anonymously. Employees can put any simple suggestions they want to make or write anything that bothers them.
One of the other evaluation practice is one-on-one reviews. This could be very effective to know about employee dissatisfaction and its attributes. Management would this way know if they are satisfied with their jobs. This would allow the employees to talk about their discontentment, aspirations, and goals. This would foster satisfaction and engagement and what employees expect from the organization.
In Summary
Organizations must be aware of these practices to improve employee satisfaction and employee engagement. Satisfied employees would always put their best foot forward and work towards the bottom line. When you know what diminishes employee satisfaction and help your employees to give the best employee experience. That's when you build a team which will help you achieve milestones.